411 Anderton Avenue, Courtenay
Across from the Florence Filberg Centre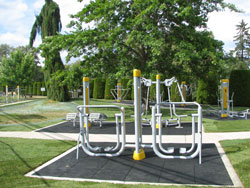 Workout in a great park location! Situated right across the street from the Florence Filberg Centre, Riverside Fit Park features 16 pieces of outdoor fitness equipment with 32 individual stations that include equipment for cardio, upper body and lower body workouts. This durable equipment is available year-round for both informal drop-in use as well as scheduled classes.
Riverside Fit Park was made possible thanks to funding from the Province of B.C.
Take a Virtual Tour
Riverside Fit Park

Is the link above not working? Access the Riverside Fit Park through our full list of virtual tours