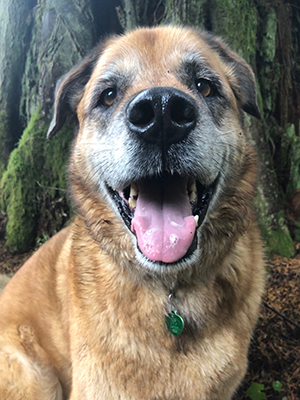 All dogs over six months old living in the City of Courtenay need to have a dog licence. Licences expire each year on December 31 and must be renewed annually.
Dogs must wear their licence affixed to a collar or harness at all times. Households are permitted up to three dogs.
How to get a Dog Licence
Dog licences are normally available for purchase at Courtenay City Hall.
Due to the COVID-19 pandemic, City Hall is temporarily closed. If you need a dog licence, please contact Courtenay City Hall at 250-334-4441 or email finance@courtenay.ca. You will be asked to provide the following information:
your name, phone number and address (must reside within the City of Courtenay)
your dog's name, breed, colour and gender
if spayed/neutered, proof of status from a qualified veterinarian for first-time licencing
City staff will provide you with instructions on how to make an electronic fund transfer (EFT) payment through your financial institution.
| Dog Licence Description | Fee |
| --- | --- |
| Unneutered male or unspayed female | $25 annually |
| Neutered male or spayed female | $5 annually |
| Either of the above, after August 1 | half price |
| Replacement licence or dog tag | $2 |
| New City of Courtenay residents with a valid dog licence for the current year from another municipality | $1 for the remainder of the year |
Pre-sales of dog licences for the following year begin November 1. If the dog changes owners, the new owners will have to obtain their own licence.
Benefits of the Dog Licence program
Revenue from the Dog Licence program helps fund the City's contract with the SPCA. Also, by having a dog licence:
It will be easier to reunite you with your dog if it goes missing
You'll avoid an "unlicenced dog" ticket — starts at $100 for a first offence
For further information
Read the Animal Control Bylaw [PDF - 43 KB]
BC SPCA: What to expect when caring for a dog