Licensed quality care for children ages 3 - 5 years
Play! Create! Socialize! Celebrate!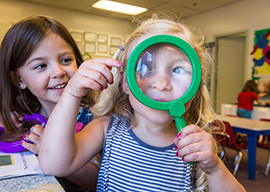 Cozy Corner Monthly Newsletters
Cozy Corner June Newsletter [PDF - 1 MB]
Cozy Corner May Newsletter [PDF - 3 MB]
View the Cozy Corner Gallery below to see the wide range of activities offered.
Exciting things Coming Soon! Thanks to funding from Employment and Social Development Canada – Enabling Accessibility Fund Grant Cozy Corner Preschool is getting a new accessible age appropriate play space located just outside their sliding door! Play space should be ready come September!
Spaces available. Register now!
Sessions
Choose your class sessions:
Monday Wednesday and Friday mornings
9:00 am - 1:00 pm NEW! starting September 2022
OR
Tuesday and Thursday mornings
9:00 - 11:30 am
OR
Tuesday and Thursday afternoons
1:00 - 3:30 pm
Fees
$50 non-refundable annual family registration fee.
Registration is ongoing, dependant upon space availability.
Monthly
$155 2 days/week
$300 3 days/week
To register
Visit the Lewis Centre, 489 Old Island Highway, Courtenay or call 250-338-5371
Registration can be made at the Lewis Centre front desk for the months of July & August.
Already Registered? Click here for the Registration Package
Meet Roberta Churchill, Preschool Supervisor