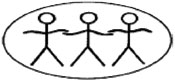 Welcoming all people in to the heart of community life
Relationships are important
Everyone belongs
Diversity builds a strong community
Everyone has something to contribute
Everyone has choices
Who are we?
Building Friendships, a program of the Courtenay Recreational Association, is proud to help further its mission to promote healthy active living, volunteerism, multiculturalism, life-long learning, and well-being for all.
We were established in 1993 by a parent group and the vision of John McKnight for an inclusive community. We are dedicated to supporting, building, educating and promoting an inclusive welcoming community.
We believe that a community that is open to the diversity of each its citizens will grow and be stronger. Through participation and contribution to the community, relationships have the opportunity to grow thus providing a sense of belonging and worth.
What we do
We provide support to members of the community that have a developmental disability, to establish and maintain relationships with others in the community. Through a process of interviewing and exploring the community we assist each person to find their gifts, interests and capacity for active citizenship. Through this process, everyone's social circle will become bigger and stronger; providing a welcoming, inclusive Comox Valley.
Our dynamic team at Building Friendships is skilled and trained in many areas of service to people with developmental disabilities. They are regular, active Comox Valley community members and take pride both professionally and personally in practicing and promoting inclusion for all.
Come meet us at the Lewis Centre.
Staff: Michelle Sandiford, Damon Bell
Resourcing and consulting
If you are interested in our program but do not qualify for services under Community Living BC, we can help provide ideas and direction. Please come and see us at the Lewis Centre. We always like to meet new people.
How to get involved
If you would like to get involved with Building Friendships, call Community Living BC at 250-334-1370 and ask for a referral to the program; or contact us directly at 250-338-5371 or visit us at Courtenay Recreation Lewis Centre. We will assist you with requesting a referral.
Our sponsors
Building Friendships is very fortunate to have had the long time support of two critical organizations; we couldn't do what we do without them and they deserve huge thanks:
City of Courtenay
Community Living BC which provides core funding