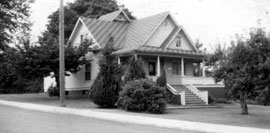 The Billy Booth House was originally constructed in 1913 in "The Orchard", Courtenay's first subdivision. The original owner of the house was likely Peter Walker. The Booth family purchased the home in 1920, and members of the Booth family owned the home until 1979.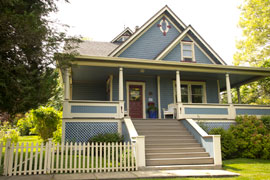 The Booth family moved to Courtenay from North Vancouver in 1915 and purchased the Courtenay Hotel. The hotel closed in 1917 because of newly enacted Prohibition laws, and the Booths purchased McPhee & Morrison General Store, located in the McPhee building on Union Street (now 5th Street). They later purchased the corner of Union Street & Union Bay Road (now 5th & Cliffe) and erected a two storey building, known as "The Booth Block". This building was then purchased by Lavers. They were well known as compassionate, honest pioneer businessmen.

Billy Booth was the younger son of Emma and Thomas Booth. Throughout Billy Booth's lifetime, he was active in community affairs. He was a Charter Member of both the Courtenay Elks and the Courtenay Rotary Club. He served on Courtenay City Council in 1923. In his spare time he enjoyed golfing at the Comox Golf Club.
Billy Booth married Ivy Barnes of Nanaimo on April 28, 1920. The Argus newspaper of the day had high praise for their nuptials.
"One of the prettiest weddings in the social history of the city was solemnized at noon today at St. Paul's church…. The bride who is one of Nanaimo's most charming daughters, looked beautiful in a novelty blue traveling suit and wearing a hat to match."
Hunt for History, Judy Hagen, Comox Valley Echo February 27, 2001
The couple took up residence in the Billy Booth House. Ivy loved gardening, and her flowers were always beautiful. She was active in the Anglican Church Women's Auxiliary, and was a founding member of the Rotary Anns.
Billy was a devoted husband and son. He lovingly cared for Ivy during the last few years until her death in 1948, and also took care of his own mother from 1943 until his own death in 1959.
The Billy Booth House was honoured with a City of Courtenay Heritage Commemoration in 2001.