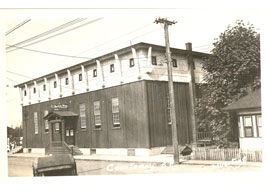 The Native Sons Hall is unique. Built in 1928, it's the largest building ever constructed using timbers and lumber.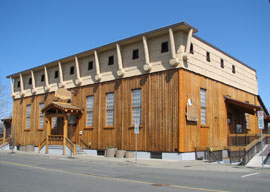 "Each of the 10 truss timbers in the roof weighs 6 and one half tons. Each is 66 feet long and 3 feet in diameter. The main building is composed of 500 cedar logs, slabbed on two sides and set on end on a concrete foundation."
Land of Plenty, p. 244

Mr. Bill Eastman, one of Canada's top bridge builders, supervised the construction of the shell. His expertise ensured the longevity and strength of the building.
After its completion, the Native Sons Hall was the cultural heart of downtown for many years. Dances, basketball games, fairs, roller skating and meetings were but just a few of the different activities happening in this building. Until recently the home of the Courtenay and District Museum, it is currently used by various service clubs, and is available for rentals.
The Native Sons Hall was granted heritage status in the City of Courtenay in 1987. In 2010, the facility underwent an extensive restoration both inside and out.
Looking for a unique venue to hold your special event? Rent the Native Sons Hall for your community or private functions. Contact the Florence Filberg Centre for rental assistance at 250-338-1000 or email filberg@courtenay.ca