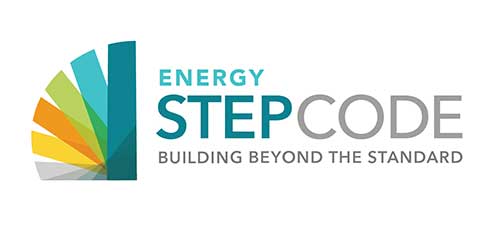 The City of Courtenay Mayor and Council has approved the inclusion of the BC Energy Step Code provisions in the upcoming revised Building Bylaw.
The City of Courtenay hosted an Energy Step Code information session on November 27, 2019.
BC Step Code Industry Stakeholder Survey Responses [PDF - 108 KB]

Energy Step Code Survey Response [PDF - 17 MB]
Building Permit Application Requirements
In order to help streamline the process of building permit applications, the Building Department has put together a brief bulletin outlining the required documents and information that should be included with all applications.
Energy Step Code Bulletin [PDF - 110 KB]
What is the BC Energy Step Code?
The BC Energy Step Code is a performance-based standard that establishes measurable requirements for energy efficiency in construction. To demonstrate compliance, a builder must prove that the building meets or exceeds a set of defined metrics for building envelope, equipment and systems, and air tightness testing.
The adoption of the BC Energy Step Code system is expected to help reduce community-wide energy use and support the goals of the BC Climate Action Charter - identified as one of Council's Strategic Priorities.
The Province of British Columbia's CleanBC report has also indicated that all new construction will be required to be 20% more energy efficient by 2022 and "net zero ready" by 2032.
Early adoption of the BC Energy Step Code in Courtenay would give builders and the City of Courtenay time to work through the challenges associated with changes in building methods, prior to being mandated through the Provincial Building Code.
How is the BC Energy Step Code be implemented?
The City's implementation requirements consist of applying Step 2 to Part 3 and Part 9 buildings effective April 6, 2020, with an increase to Step #3 for Part 9 buildings as of January 1, 2021.
The graduated conversion period is anticipated to aid a smooth transition from current construction practices to the performance-based BC Energy Step Code. Support through educational opportunities and defined processes should provide all stakeholders the foundation necessary to build to the new standard.
How to determine compliance with the BC Energy Step Code?
For the purposes of determining compliance with the applicable step of the BC Energy Step Code, a value of 2,939 heating degree days can be used. This value was determined by Environment Canada for the City of Courtenay in 2014 and establishes Courtenay in Climate Zone 4. Any calculations to determine compliance with the BC Building Code should use these values and not the values taken directly from BCBC Appendix C.
BC Energy Step Code Reports
Learn more: www.energystepcode.ca
Background Information