Development Application Tracker
View plans and information on development applications currently under review with the Planning Division as well as the status of these applications and important Council meeting dates. For Council Meeting Agendas that include Staff Reports and for Council Minutes that include the resolutions for Development Applications please visit www.courtenay.ca/councilmeetings . Please note that Council meeting dates shown on the Development Application Tracker below are subject to change and occasionally staff reports may be revised prior to a meeting.
The following applications types are included in the application tracker:
Official Community Plan Bylaw Amendment Applications
Zoning Bylaw Amendment Applications
Development Permit Applications
Development Variance Permit Applications
Board of Variance Applications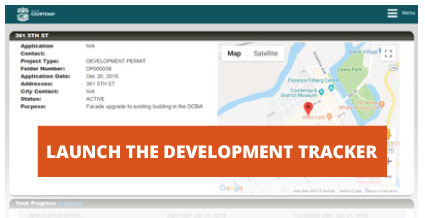 Public Notice: Some Multiple Listings Service (MLS) Real Estate Listings may contain old, outdated, or incorrect information. Please use Development Tracker and/or contact The City of Courtenay Development Services Department for correct information.
Important Note: When searching by address use abbreviations for road type
RD = Road
ST = Street
AVE = Avenue
CRES = Crescent
BLVD = Boulevard
PL = Place
Archived Development Permit Application Lists