What is a Zoning Bylaw?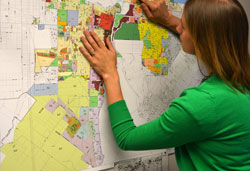 The Zoning Bylaw is the key tool used in implementing and regulating land use in the City of Courtenay. The Zoning Bylaw establishes where uses and buildings can occur, and at what densities. Regulations are also created for different uses, locations and siting requirements.
The approach taken in recent years has been to only rezone properties based on a proposal presented to and accepted by Council. This provides a greater level of certainty to Council and to the public and has allowed the City to achieve significant amenities, particularly for parks and open spaces, and for affordable housing.