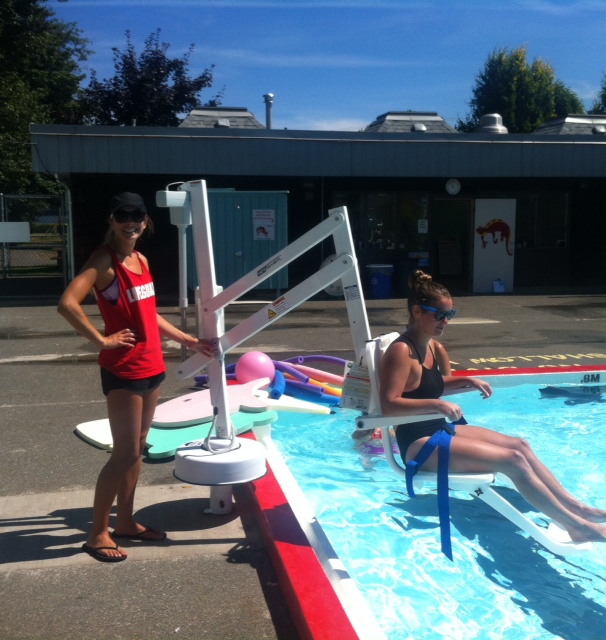 Having a swim at the outdoor pool has gotten easier for those with accessibility issues. A pool lift was installed in 2014 at the Courtenay and District Memorial Outdoor Pool thanks to funding from the Comox Valley Regional District. The lift is designed to assist anyone who has problems entering or exiting the swimming pool.
The unit was purchased in consultation with the Comox Valley Accessibility Committee. The chosen brand is a Splash! product. The maximum lifting capacity is 400 lb or 181.5 kg. The unit is designed with both safety and ease of use in mind. It also has added accessories like a stability vest, spine board attachment, comfort seat pad and more.
The lift is available during most swim times during the summer including Special Needs swims and by appointment. Special Needs swims are on Tuesdays and Thursdays from noon to 1:30 pm in July and August. Please note that the lift may not be available during busy open swim sessions. Talk to the lifeguard on duty at the pool or call 250-338-5371 for further information.
Handicapped parking is also conveniently located beside the pool for those with accessibility issues. The Lewis Centre also offers a height adjustable change table in the handicapped changeroom in the new wing of the building close to the Wellness Centre.
For more information on summer pool schedules, aquacise, length swims, and pool rentals call the Lewis Centre at 250-338-5371.