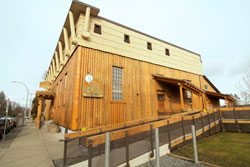 **PLS NOTE - The City of Courtenay is closing all City recreation and cultural facilities to the public as of March 16, 2020 at 3 p.m. as a result of the global Novel Coronavirus (COVID-19) outbreak. Staff will be available by phone and email during our operating hours**
Located downtown Courtenay at 360 Cliffe Avenue, next to the Sid Williams Theatre.
The historic Native Sons Hall is the largest free span log building in Canada. Built in 1928 as Courtenay's original Recreation Centre, it has hosted numerous weddings, dances, concerts, and community events.
Meeting room facilities for groups of 10 – 300
Hourly rates available
Wheelchair accessible
Ample parking
Rental Spaces