Our instructor Signi offers a great workout that can be done outdoors using the steps to your house! At the end of the workout is a Boost Me Up Smoothie recipe.
Outdoor exercise during this time of social distancing is a great option for many reasons. First of all, it gets us outside! Vitamin D from the sun is important for our immune system. The sun and the sounds of nature lift up our spirits.
Without much equipment other than a set of stairs and a mat, your backyard can be the perfect gym! Don't forget music if you'd like, it's a great motivator and can enhance your workout.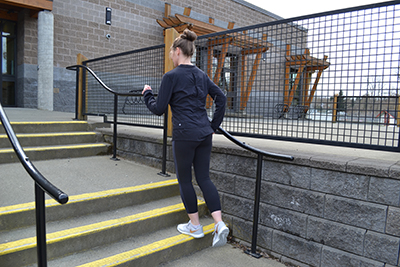 BASIC CARDIO FOR THE ENTIRE WORKOUT:
Step up and back down on any set of stairs - your deck, porch, or back steps work great! Make sure you're stepping on the bottom stair. After ten steps, switch your leading leg. Set a timer for 2-5 minutes for each stepping interval.


1. WARM UP CARDIO:
5 minute step interval: Stepping up and down, switching leading leg every 10 steps. (5 min)
2. WARM-UP:
Leg circles: Bending the knee and moving from the hip in each direction.
Side to side lunges: Watching the knee doesn't come over the toe. Bring arms up side to side as you lunge.
Shoulder circles: Arms by the side, roll your shoulders forwards and then backwards. Warming up your joints gets the synovial fluid moving.
3. CARDIO: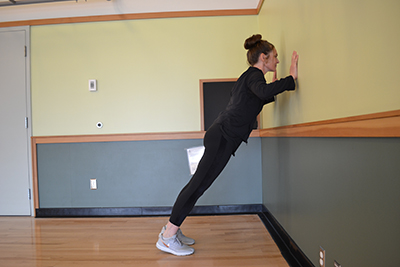 4. STRENGTH:
Wall Push-Ups (shown beside): Hands shoulder-width apart, feet hip-distance apart. Keep the back straight. Aim for 20- 30 repetitions.
5. CARDIO:
5 Minute step interval: Pick up the pace a little!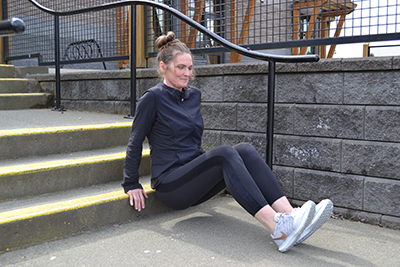 6. STRENGTH:
Triceps Dips (shown beside): Place your hands on the bottom step, with your fingers pointed towards your feet. Bend your legs and make sure your feet are hip-width apart with your feet on the ground. Look straight ahead. Push yourself up, extend your arms, then slowly lower yourself back down until your elbows are bent at around 90 degrees. Aim for 20 – 30 repetitions. To make it more difficult, extend your legs completely with your heels touching the ground.


7. CARDIO:
5 minute step interval. Pick up the pace a little more. Be mindful of your steps!

8. STRENGTH:
Air Squat (shown beside): Start to sit, as if you're going to sit on a chair, with your feet hip distance apart. Make sure your knees are not coming over toes, and your arms are out in front of the body. Slowly come down and back up 20 times. Remember, form is more important than speed! Keep it slow and controlled. For an additional challenge, add a weight and hold it front of your body to engage your core.


9. CARDIO:
5 minute step interval: Steady pace up and down the stairs, remember to switch your leading leg!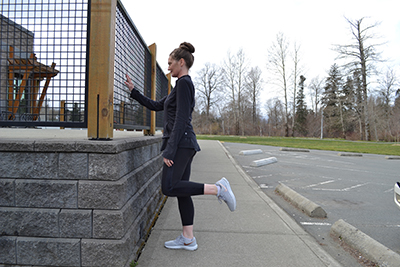 10. STANDING HAMSTRING CURL:
(shown beside) Feet are hip distance apart. Place your hands on an outdoor wall, tree etc. Slowly bend your right knee, bringing your heel towards your backside. Keep your thighs parallel. Slowly lower your foot, and repeat. Complete 2 sets if 12 -15 reps on each side.
11. CARDIO:
5 minute step interval: Last set! Begin to slow down.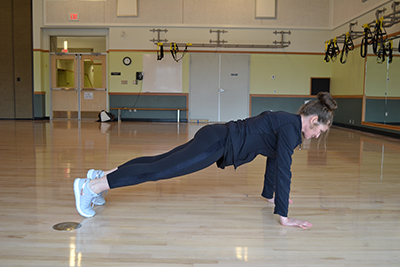 12. PLANK:
(shown beside) Come into the "up" position of a push up. Place your hands shoulder-width apart and your feet hip-width apart. Engage your core and keep your back straight. Hold this position for 30 seconds then rest. Repeat 3 times.
13. STRETCHING:
Try to spend at least 5-10 minutes at the end of your workout stretching.
Voilà! You have just completed your quick outdoor workout!
Now for an Energizing Smoothie! Here's a quick and easy immune-boosting recipe with simple ingredients:
BOOST ME UP (Rich in vitamin A, C and folic acid)
1/2 lemon
2 apples (or one large apple)
1/2 oz ginger
1 cinnamon stick
Blend first three ingredients in a blender. Transfer to a small pot and gently heat. Toss in cinnamon stick and stir. Enjoy!