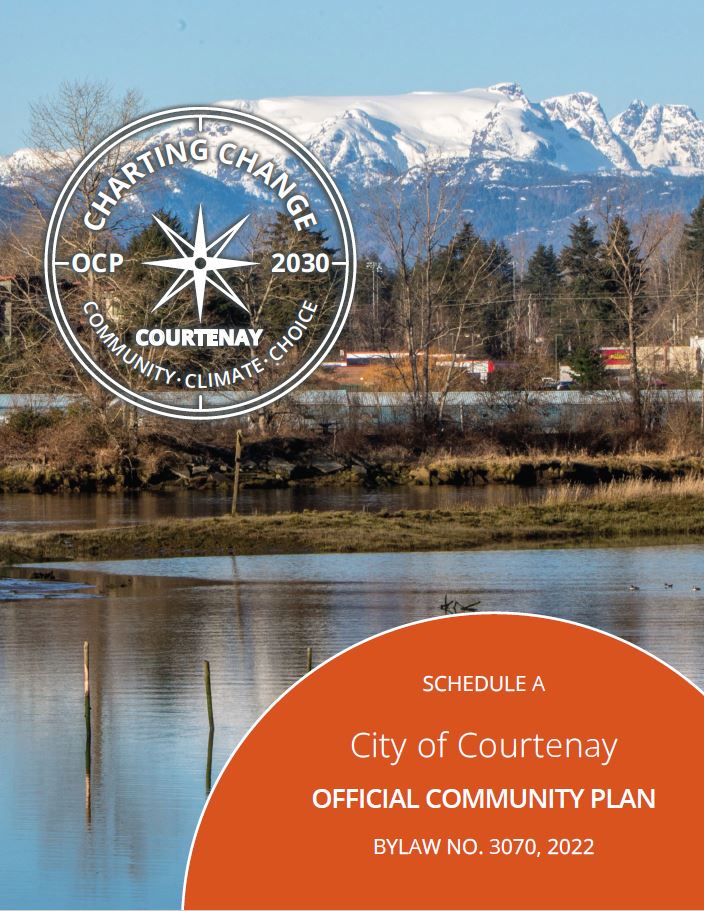 The Courtenay OCP Bylaw 3070 Public Hearing has been held!

The public hearing was held on June 20th, 2022, the adjournment of which signals the official conclusion to the public consultation.The City of Courtenay thanks the hundreds of people who participated in the Official Community Plan (OCP) consultation since early 2020. The OCP is a community effort! The next step will be for Council to consider 3rd and Final readings of the Bylaw at a future date.
If you have any questions on the OCP, email or phone City staff at: planning@courtenay.ca / 250 703 4839.


OCP Update E-Newsletter
Sign up for the e-newsletter to be informed of OCP adoption and implementation projects.
* Due to technical issues with the OCP Update E-Newsletter subsciption, if you attempted to subscribe on this page between March 9 and June 9, 2022, please re-subscribe below to complete your subscription. Thank you.
Recent Phases: OCP Bylaw, Zoning Amendment Bylaws, and Staff Reports
On May 30, 2022 Council passed First and Second readings of the OCP as Bylaw 3070. At the same time, Council passed First and Second readings of Zoning Amendment Bylaws that would implement some policies of the OCP:
permitting secondary suites in more zones (Bylaw No. 3071),
setting bike parking standards and lowering vehicular parking standards for multi-residential dwellings (Bylaw No. 3074), and
locating the Development Permit Area guidelines and Temporary Use Permit land use regulatory tools into to the Zoning Bylaw (Bylaw No. 3075).
Watch the May 30th Staff Presentation and Council Discussion
Read the reports:
This Staff Report also contains the OCP Advisory Committee Report to Council; the OCP Phase 5 consultation results; and an Inventory of changes to the OCP from the January 2022 version.