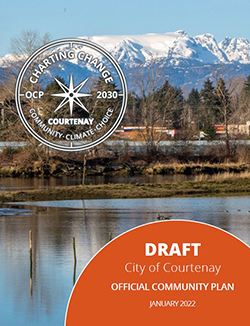 The City of Courtenay thanks the hundreds of people who participated in the draft Official Community Plan (OCP) consultation by filling in the online survey, submitting written submissions, talking to City staff, or attending a presentation or virtual town hall.
Hundreds of individuals representing residents, businesses, community organizations and other stakeholders, participated in consultation of the draft OCP between January 17 and March 8 2022.
The survey and public consultation phase are now closed but you can still access the draft OCP materials below.
City staff will review all the feedback, make changes to the draft OCP, and present it to Mayor and Council for adoption before summer 2022.
The next opportunity for the public to get involved will be the public hearing.
If you have any questions on the OCP, email or phone City staff at: planning@courtenay.ca / 250 703 4839.

Sign up for the e-newsletter: stay informed and learn ways to get involved!

Draft OCP
A number of documents and videos are available to help those interested take a sneak peak or a deep dive into the draft OCP.