THE FUTURE OF THE OUTDOOR POOL
The Courtenay and District Memorial Outdoor Pool survey closed on September 12th. If you have additional feedback, please email rcs@courtenay.ca or call 250-334-4441 ext. 7231.

The attached short presentation which summarize the options for the future of the outdoor pool as informed by the Comox Valley Aquatic Strategy:
Interactive Story Board: Options for the Future of the Courtenay Outdoor Pool
Or, click the image below to access the interactive story board: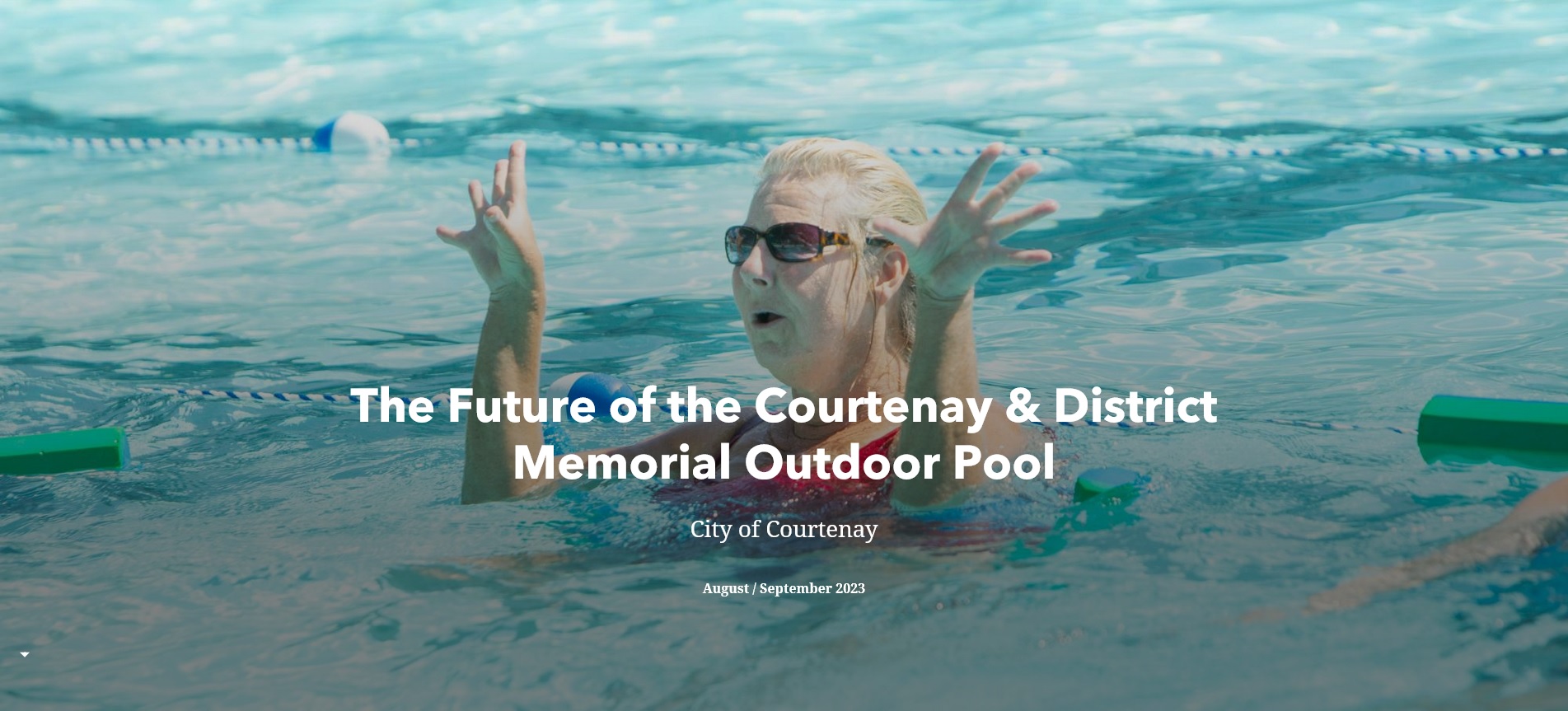 AQUATIC STRATEGY
The Comox Valley Regional District (CVRD) and the City of Courtenay completed a draft comox valley aquatic strategy to shape the future of public swimming in the region for the next 25 years. The draft strategy was presented to Council at the January 11, 2023 Council meeting.
Facility Options Presentation [PDF - 1 MB]
Draft Comox Valley Aquatic Services Strategy [PDF - 23 MB]
Next Steps for engagement

Feedback gathered from public engagement on Courtenay's Outdoor Pool will be considered before the report is finalized.
The final draft report including feedback from the survey on the outdoor pool will be presented to Council before being finalized in the Fall 2023.
Project Timing
| | | |
| --- | --- | --- |
| Phase | Timeline | Detail |
| Phase 1 | December 2021 - Summer 2022 | Learning and engagement |
| Phase 2 | Summer 2022 - Early 2023 | Strategy development & review |
| Phase 3 | Summer 2023 - Winter 2024 | Public Engagement & Finalization |
Council Reports
2023 07 12 Comox Valley Aquatic Service Needs Update
2023 0712 Comox Valley Aquatic Draft Strategy Review Synopis
2023 01 11 Staff Report Comox Valley Aquatic Services Strategy Draft.pdf [PDF - 3 MB]
2022 07 25 Briefing Note Aquatic Services Project Update What We Heard Report.pdf [PDF - 5 MB]