The City of Courtenay has a vision to make walking and cycling safe, convenient, comfortable, and fun for people of all ages and abilities. To achieve this vision, our built environment must encourage more people to travel on foot or by bike.
The Government of Canada and the Province of BC have awarded $1.7 million to the City of Courtenay for new bike lanes and crosswalk upgrades on the 17th Street corridor between Fitzgerald and Willemar Avenues.
The 17th Street Corridor Improvement Project will:
Make crosswalks safer
Separate cyclists from vehicle traffic
Create cycling connections between the Rotary Trail, the 5th Street corridor, and the Fitzgerald bike lanes
Improve safety on one of School District 71's recognized "Best Routes" to school for children travelling to Courtenay Elementary and beyond
Project Details
The 17th Street Corridor Improvement project will include:
Curb protected cycle tracks with parking between Fitzgerald Avenue and the Rotary Trail
Painted, parking-protected bike lanes between the Rotary Trail and Willemar Avenue
Curb extensions to improve sightlines and shorten the crossing distance for pedestrians
New pedestrian-controlled flashing beacons at Tull, Piercy, and Grieve avenues
The new bike lanes on 17th Street will help link the Rotary Trail, the 5th Street corridor, and the Fitzgerald bike lanes, increasing connectivity in Courtenay's cycling network. 17th Street is also recognized as a safe route to school by the School District's Hub for Active School Travel program.
Active Transportation
Improving connections for people who walk and cycle has been a strategic priority for the City of Courtenay for many years. The Connecting Courtenay: Transportation Master Plan and Cycling Network Plan were created through this process and adopted by Council in September 2019. An assessment of core destinations, including a review of input from stakeholders and the public, identified a number of gaps in the existing cycling network, including 17th Street between Fitzgerald Avenue and Willemar Avenue.
How much will this project cost?
100 percent of eligible project costs will be funded through the $1.7 million grant from the Investing in Canada Infrastructure Program, COVID-19 Resilience Infrastructure Stream.
What will the project look like?
The following conceptual designs provide an overview of the upgrades coming to 17th Street on either side of the Rotary Trail. Detailed design is underway.
Curb Protected Cycle Tracks with Parking:
Fitzgerald Avenue to Rotary Trail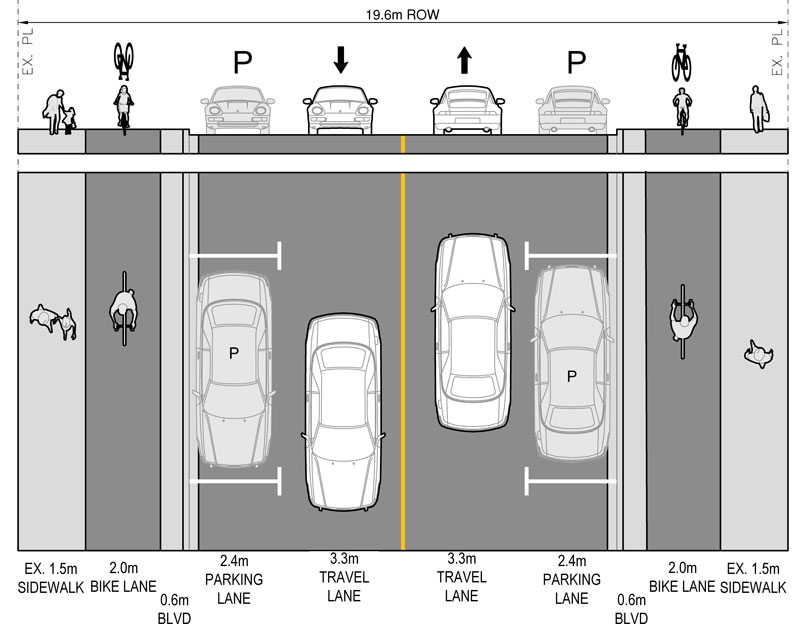 Painted Parking-Protected Bike Lanes:
Rotary Trail to Willemar Avenue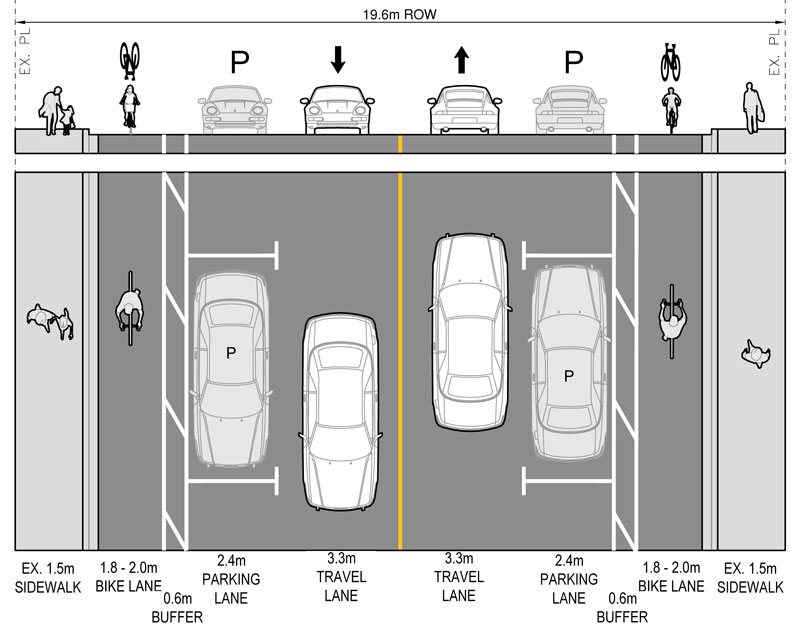 When will construction begin?
The City expects the painted bike lanes between Willemar Avenue and the Rotary Trail will be installed later in summer 2021. Construction of the curb protected cycle tracks between the Rotary Trail and Fitzgerald Avenue, curb extensions, and pedestrian-controlled flashing beacons will occur sometime in 2022.
News
August 20, 2021: Canada and British Columbia invest in local infrastructure to help build community connections in the Vancouver Island region