Pedestrian and cycling connections and the enjoyment of our estuary are important to the residents of the Comox Valley.
Background
A 6th Street Multi-Use Bridge is included in the recently completed Parks & Recreation Master Plan and referenced in the Transportation Master Plan for the City of Courtenay. In addition, the Downtown Courtenay Playbook notes an additional crossing at Sixth Street should be explored further.
A 6th Street Multi-Use Bridge would provide a dedicated cycling and pedestrian connection between downtown and Simms Millennium Park as well as a connection to the future cycling network along 6th Street, Anderton Avenue, the Courtenay Riverway Trail, and the pathway connection to the Lewis Centre.
2019 Options Analysis
The scope of this study was to develop and evaluate bridge options for improving active transportation connections across the Courtenay River adjacent to downtown. Four bridge types were studied to provide a range of aesthetic appeal and costs. The four bridge types are listed below:
Prefabricated Bowstring Bridge
Prefabricated Bailey Bridge
Network Arch Bridge
Cable Stayed Bridge
On January 27, 2020, a Staff Report was made to council presenting the various options for the proposed 6th Street Bridge.
On February 3, 2020, Council directed staff:
"That Council affirm the priority construction of the 6th Street multi‐use pedestrian‐bike bridge project and direct staff to include the 6th Street multi‐use Pedestrian‐bike Bridge project on the list of Council priorities."
The Options Analysis Report can be found here:
January 27, 2020 Presentation: 6th Street Bridge Feasibility Study [PDF - 2 MB]
2020 Detailed Options Analysis
The scope of this study was to further develop the design of the four previously studied options and provide a recommendation for the preferred option. The study also advanced the design of the connections to the existing walking and cycling infrastructure on each side of the bridge.
On December 9, 2020, a Staff Report was made to Council presenting the study and a preferred option. A 4-metre wide Symmetrical Cable Stayed Bridge was selected.
The Detailed Options Analysis report can be found here:
Decmeber 9, 2020 6th Street Bridge Detailed Options Analysis.pdf [PDF - 23 MB]
Renderings of the proposed bridge are shown below: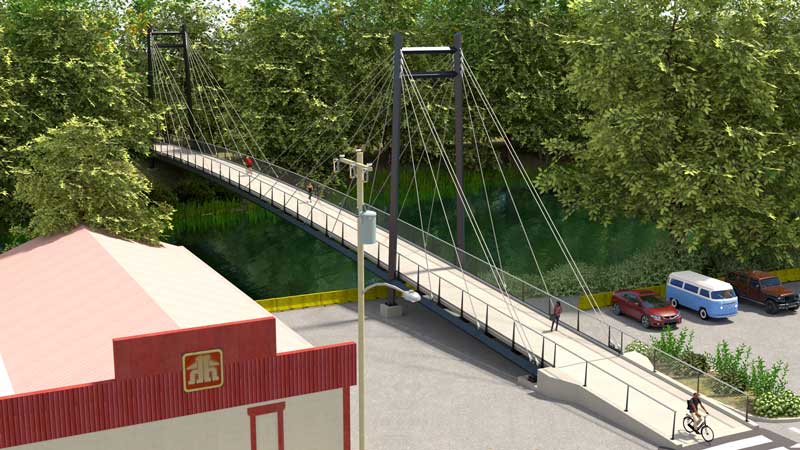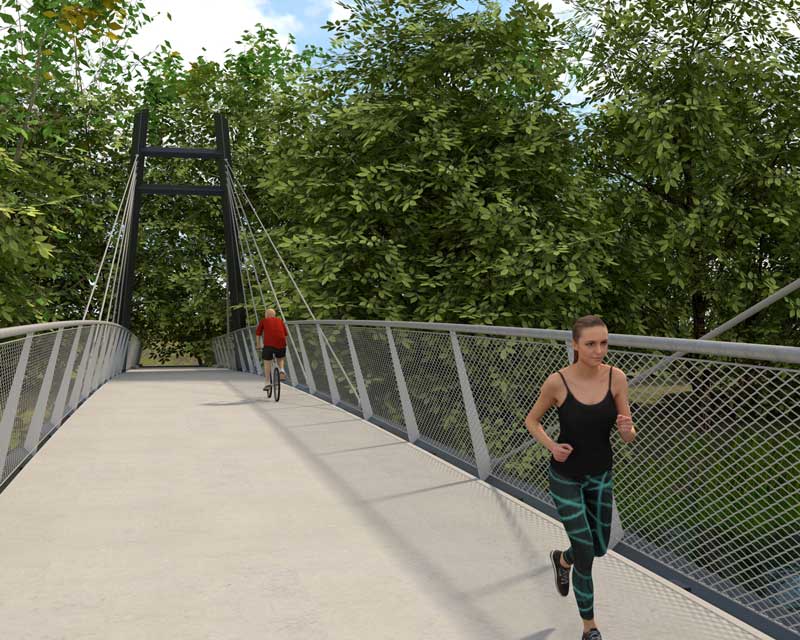 The proposed alignment of the bridge is shown below:
Council Reports
December 10, 2020 Staff Report: 6th Street Bridge Project Update [PDF - 23 MB]
June 1, 2020 Briefing Note: 6th Street Bridge Project Update [PDF - 180 KB]
January 27, 2020 Staff Report: 6th Street Bridge Options Analysis [PDF - 2 MB] [PDF - 776 KB]
January 27, 2020 Presentation: 6th Street Bridge Multi-Use Options [PDF - 2 MB]
January 27, 2020 Presentation: 6th Street Bridge Feasibility Study [PDF - 2 MB]