A 6th Street Multi-Use Bridge is included in the recently completed Parks & Recreation Master Plan and referenced in the Transportation Master Plan for the City of Courtenay. In addition, the Downtown Courtenay Playbook notes an additional crossing at Sixth Street should be explored further.
A 6th Street Multi-Use Bridge would provide a dedicated cycling and pedestrian connection between downtown and Simms Millennium Park as well as a connection to the future cycling network along 6th Street, Anderton Avenue, the Courtenay Riverway Trail, and the pathway connection to the Lewis Centre.
2021 Detailed Design
Detailed design is underway on a 4-metre wide Symmetrical Cable Stayed Bridge. A completed detailed design will position the project to apply for "shovel-ready" grant opportunities should they become available.

2020 Detailed Options Analysis
The Detailed Options Analysis report can be found here:
Decmeber 9, 2020 6th Street Bridge Detailed Options Analysis.pdf [PDF - 23 MB]
2019 Options Analysis
The Options Analysis Report can be found here:
January 27, 2020 Presentation: 6th Street Bridge Feasibility Study [PDF - 2 MB]
Renderings of the proposed bridge are shown below: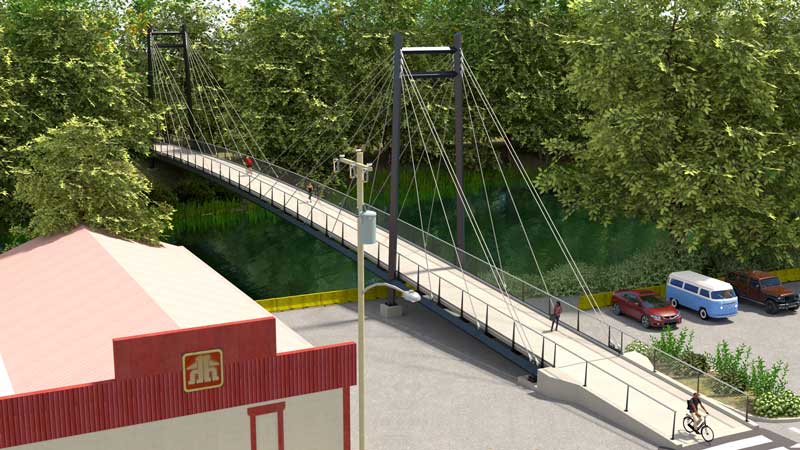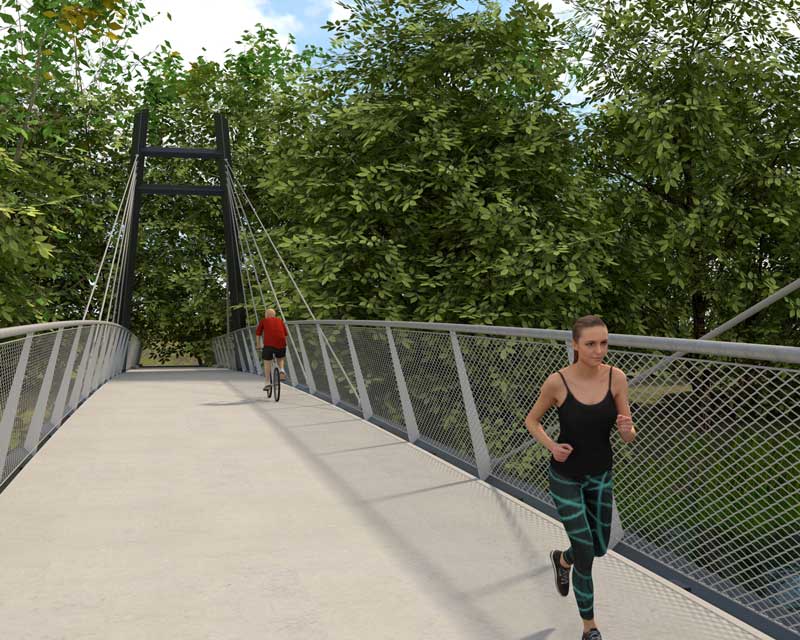 The proposed alignment of the bridge is shown below: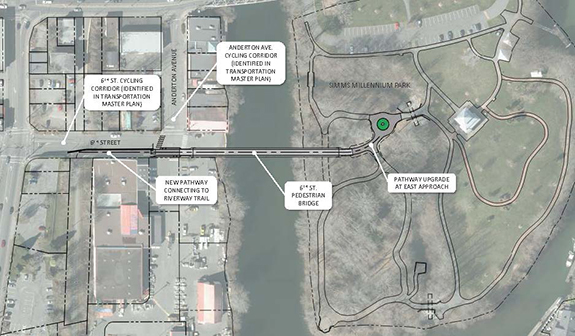 Council Reports
July 19, 2021 Staff Report: 6th Street Multi-Use Active Transportation Bridge - Funding Reallocation [PDF - 618 KB]
December 10, 2020 Staff Report: 6th Street Bridge Project Update [PDF - 23 MB
June 1, 2020 Briefing Note: 6th Street Bridge Project Update [PDF - 180 KB]
January 27, 2020 Staff Report: 6th Street Bridge Options Analysis [PDF - 2 MB] [PDF - 776 KB]
January 27, 2020 Presentation: 6th Street Bridge Multi-Use Options [PDF - 2 MB]
January 27, 2020 Presentation: 6th Street Bridge Feasibility Study [PDF - 2 MB]