Phase 1 of the South Courtenay Riverway Trail Extension, between Millard and Beachwood Road, is now complete. The eventual goal of the project is to connect the existing Riverway Trail network with the Royston Seaside Trail.

The trail consists of a 3.0 metre wide crushed aggregate multi-use pathway, consistent with the existing trail network in south Courtenay.

This phase is on the site of a railway corridor owned by the City and is unique in that the majority of this section is bordered by private property on either side, including along the waterfront.

Trail users are asked to respect private property and not trespass on these private lands. The corridor boundary is clearly marked by a low rail and signage. The nearest beach access is at Millard Road.

UPCOMING PHASES: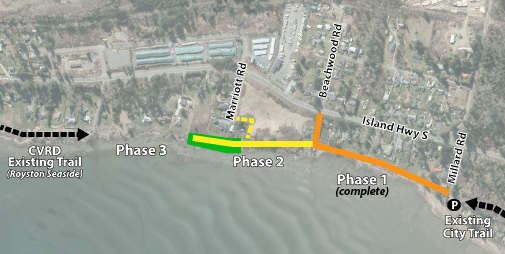 Phase 2, planned between Beachwood and Marriott Road, will not be constructed until an exit is acquired at Marriott Road.
Phase 3 would connect Marriott Road to the regional trail at Chinook Road. This phase will not proceed until a route is established.
Background Information:
Courtenay Mayor and Council have directed staff to complete the Courtenay Riverway Trail, with an eventual goal of connecting to the Royston Seaside Trail. This decision is supported by the Official Community Plan, Parks and Recreation Master Plan, Connecting Courtenay: Transportation Master Plan and Cycling Network Plan, and the Comox Valley Regional Growth Strategy (external link).
Review the display materials from the open house that took place November, 2019:
Media Releases
November 6, 2019: Open House for South Courtenay Riverway Extension
October 9, 2020: Construction Underway for South Courtenay Riverway Extension