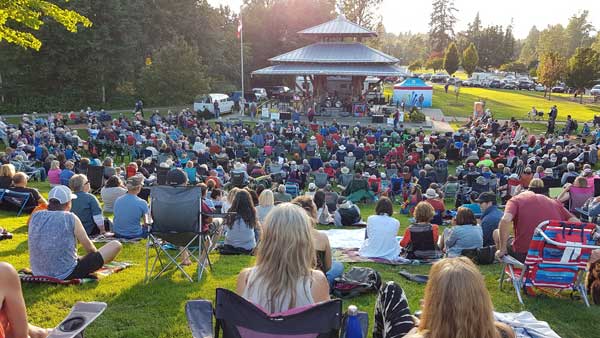 The 2022 Simms concert season has come to a close with the season finale performance by My Son the Hurricane on August 14th wowing a crowd of over 2000 people.
A big THANK YOU to those who contributed to the Food Bank Drive at the final concert. You donated 600 lbs of food plus $2,656 in cash donations!
Thank you to everyone who made this season a success including:
• Our 2022 performers: G.P. Vanier Jazz Band, The Sutcliffes, Ralph Barrat & the Sharp 7, Zandhunga, Nanaimo Concert Band, Time Well Wasted, Dennis Bouwman and My Son the Hurricane.
• Steve Adamson from VI Sound
• Season Sponsors, 98.9 Jet FM and the Comox Valley Record
• Edwin Grieve for his wonderful MC service
• Brian (Fuzz) Morissette for volunteering and support
We will be taking applications for artists and groups to perform in the 2023 season. Applications will be available in February 2023.