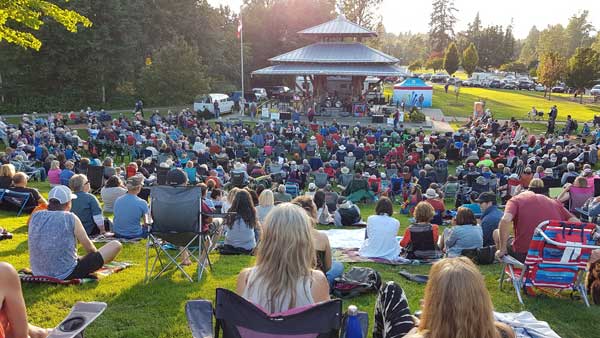 The 2023 Simms concert season has come to a close with the season finale performance on August 27 by Jeff Plankenhorn and band wowing the crowd with soulful rock, blues and folk.
A big THANK YOU to those who contributed to the Food Bank Drive at the final concert. You donated 500 lbs of food plus $1200 in cash donations!
Thank you to everyone who made this season a success including:
• Our 2023 performers: Mark R. Isfeld Jazz Band, Women of the Valley, Stealing Dan, Pan Wizards Steel Orchestra, Time Well Wasted, Mary Murphy & Celtic Cargo Cult, Rock or Bust, Stardust7 and Jeff Plankenhorn
• Steve Adamson from VI Sound
• Season Sponsors, 98.9 Jet FM and Comox Valley Record
• Edwin Grieve for his wonderfully creative MC services and support
• Brian (Fuzz) Morissette for concert production and support
We will be taking applications for artists and groups to perform in the 2024 season. Check this webpage for applications, available in February 2024.