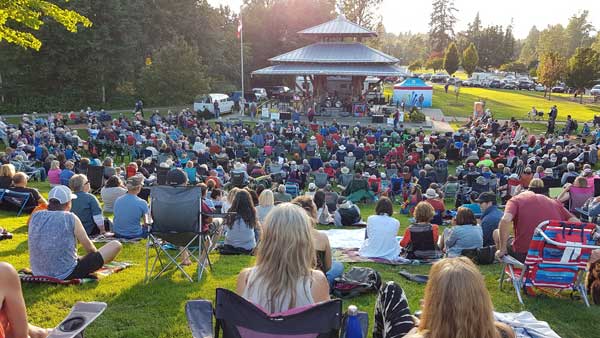 All concerts start at 7:00 p.m. and finish around 8:30 p.m.
Simms Millennium Park is located by the 5th Street Bridge and across from Lewis Park. Please bring your own lawn chair or blanket.
For concert information please call the Courtenay Recreation Lewis Centre at 250-338-5371.
Thank you to season sponsors Comox Valley Record and Jet 98.9 FM!
2023 Concert Schedule

(subject to change)
June 4

MARK R. ISFELD JAZZ BAND


A diverse mix of jazz music from the Mark R. Isfeld Senior Jazz Band with 43 students from grades 10 - 12. Please note this concert is from 7 - 8 p.m.


June 11

WOMEN OF THE VALLEY (media release and bios below)

Brodie Dawson, Elise LeBlanc, Ashley Sykes, Christy Vanden, Tereza Tomek and Tracy Lee Canil share the stage performing mostly original tunes.
June 18
STEALING DAN
(media release below)

A well crafted homage to the great pop and jazz band Steely Band. View the band on YouTube
June 25


STEEL MAGIC


NORTHWEST

Youth musicians playing steel drums, hailing from Washington State.

July 9

TIME WELL WASTED
A 13 piece dance band playing the greatest hits of your well wasted youth!
July 23
MARY MURPHY & CELTIC CARGO CULT

Traditional and original tunes with Irish celtic roots.

July 30

ROCK OR BUST

An AC/DC Tribute Band with a powerful sound.

August 20
THE SHARP 7'S

Enjoy the smooth sounds of jazz featuring Sinatra-era and contemporary music.

August 27
JEFF PLANKENHORN

A world class songwriter performing in a wide array of genres from country and folk to soulful rock and blues.

For this last concert of the season, we are holding a FOOD BANK DRIVE. Please bring a non-perishable food item as a donation. Thank you!
MEDIA RELEASE
JUNE 11TH CONCERT: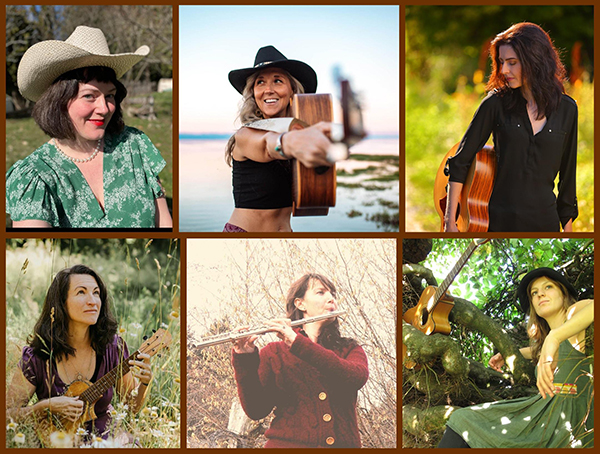 Women of the Valley Comes to Simms Park!
Women of the Valley, a group of six local musicians, will bring sweet harmonies and original tunes to Simms Park on Sunday, June 11 at 7 p.m.
The group includes Brodie Dawson, Elise LeBlanc, Ashley Sykes, Christy Vanden, Tereza Tomek and Tracy Lee Canil. Musicians will be taking turns performing mostly original music, backing each other up and playing a variety of instruments. The sound will be soulful bluesy folk, with a gospel flair, a twist of pop and a twang of old school country.
Bios for Musicians:
BRODIE DAWSON:
Named 'Vocalist of the Year' @ VIMA's and nominated for 'Best Live Act' for 2 years consecutively, Brodie Lee Dawson is a force to be reckoned with. It's her voice that jumps out at you…as soon as she sings her first note you're hooked. It's rich and riveting, pure and powerful, and full of soul. You'll find yourself in whether or not you wanted to be - and you might as well not look back, and just hold on for the ride...
She calls her music "Soulful bluesy folk with a gospel funk, a twist of pop, and twang of old school country". She is about to release her 3rd album 'Wholehearted' recorded in Nashville with some of the city's heavy-hitting musicians. Hear her crowd favorite single I'M MOVIN' ON was in rotation on SiriusXM Radio CBC-Country! And you can find SKIP A BEAT, WILL I EVER, and PAYCHECK wherever you stream your music. Known for her spontaneous collaboration with other artists and making 'magic' in the moment on stage, this evening is the perfect setting for Brodie Dawson to host!
ASHLEY SYKES:
Born and raised in the Southeastern states, Ashley Sykes has now lived half of her life on Vancouver Island, so she likes to say she is from the state of Georgia AND the strait of Georgia!
Ashley is a singer/songwriter who has been performing her own songs since her teen years, and finally got into the studio to record them in 2017. She worked with Corwin Fox of Cumberland, BC and released her album, Dissonance, in the Spring of 2018. Ashley enjoys collaborating with other Comox Valley musicians as she performs in pubs, cafes, music festivals, and at her very favourite venue for sharing songs, house concerts. She currently hosts a monthly gathering for Comox Valley songwriters. She is also involved in an online artistic community called Artist And that is based in Nashville, and through this she's had many beautiful opportunities to write songs and make friends with people all over the continent. Ashley will return to Corwin Fox's Hidden Well Studio this August and September to work on an EP of her recent creations.
Élise LeBlanc's original music is inspired by old-school country, bluegrass, and western swing.
Her songwriting explores vulnerability, resilience, and the beauty of the simple life. Backed by her string band The Ridgeriders, her storytelling comes to life with guitar, fiddle, mandolin, and upright bass.
Élise's second record is due to drop Summer 2023. Catch her performing at festivals and concerts in and around Vancouver Island and beyond! Élise received grants from FACTOR Canada to record and promote her debut album Runaway Kites, and was a finalist in the Great American Song Contest in 2016
Inspired by 10 years of travel to Baja, Mexico, and influenced by her West Coast surroundings in British Columbia, Comox Valley singer-songwriter Christy Vanden's musical journey is always evolving!
She has toured with Canadian artists Brodie Dawson and Karen Lee Batten as their lead guitarist, and is known for being a part of the award nominated female trio, She Could Be Trouble on Vancouver Island (also playing lead guitar and singing). Christy has been recognized in the Comox Valley during the 2022 Comox Valley Record Reader's Choice Awards with 2nd place in the Best Musician category and 3rd place in the Best Performer category. Her live shows are a combination of uplifting fingerstyle acoustic guitar melodies from her EP, "Unexpected Road", as well as a mix of folk, jazz, and pop songs sung in her own style.
Tereza Tomek is a Comox Valley based musician and songwriter who draws inspiration from great stories both real and imagined. She uses colourful characters, vivid imagery, and a good dose of humour to bring unique tales to life. "Tomek, a born storyteller, writes West Coast bluegrass with songs themed around striking characters. Tereza sang in a plain, strong way that conveyed emotional honesty, and with wry humour, drew laughter from the audience, which also enjoyed singing along" - The Island Grapevine (Denman Island Commmunity Newspaper)
TRACY LEE CANIL:
Tracy Lee Canil has been involved in many community music works here in the Comox Valley and Vancouver Island over the period of the last 25+ years, including many local Theatre productions, Jazz ensembles, Folk music, Baroque and Classical chamber groups. Collaborating with community musician Friends of various musical genres to create works of reflection, love and celebration is her favourite way to spend time and share in the gift. Tracy also provides Therapeutic music at Senior Care Centers, various Healing Centers, community Weddings, Artisan festivals & garden parties. Music fills our souls!
Enjoy an ultra-authentic homage to the great pop-jazz band Steely Dan on Sunday, June 18th at 7 p.m. as part of the Simms Park free concert series.
Stealing Dan is a true-to-form, note-for-note replication of the original songs and recorded excellence of Steely Dan. Expect to hear all the hits, including Reeling in the Years, Peg, Josie, FM, Hey Nineteen, My Old School, Do It Again, and many of your deep track favourites.
This extraordinary nine piece ensemble includes Jim Papp, Jeff Gillespie, John Mang, Claudio Fantinato, Rachel Cooper, Jeff Drummond, Art Van Volsen, Charity Monro and Colleen Brooks.