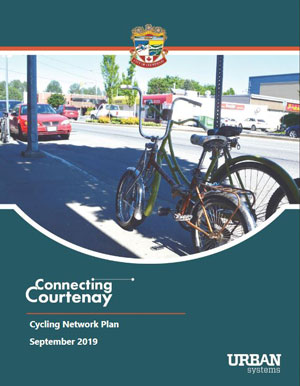 Courtenay's Cycling Network Plan includes medium and long-term plans for cycling infrastructure over the next 20 years and beyond. The plan was first adopted by Courtenay Council in February 2019.
Revisions to the Cycling Network Plan were adopted in September 2019 based on public feedback received during the Connecting Courtenay: Transportation Master Plan public comment period to ensure alignment between the two documents.

The Cycling Network Plan has already resulted in in $227,655 in provincial funding through the BikeBC program for the Fitzgerald Cycling Corridor Project and the Hobson Neighbourhood Connector.
Cycling Network Plan - Updated September 2019 [PDF - 3 MB]
Projects and costs presented in the Cycling Network Plan do not represent a financial plan, and are for future consideration only. Future transportation projects and initiatives will be determined through the City of Courtenay's annual budget processes.