Courtenay Recreation offers a full line-up of recreation programs for all ages and level of ability. We have the program for you whether you're interested in sports, arts, fitness, health and wellness, or personal development.
Register by visiting or phoning our friendly staff at the Lewis Centre or the Florence Filberg Centre.
Comox Valley Recreation Guide
The Recreation Guide is distributed to Courtenay and area households. Pick up a copy of the Recreation Guide at Courtenay Recreation's Lewis Centre, Florence Filberg Centre, or LINC Youth Centre.
Spring program registration starts on Monday March 4!
The CV Spring Recreation Guide will be available on Thursday February 28.

Spring 2019 program information:
Spring 2019 Recreation Guide flipping book
Having trouble accessing the above link? View as a pdf:
Spring 2019 Recreation Guide [PDF - 8 MB]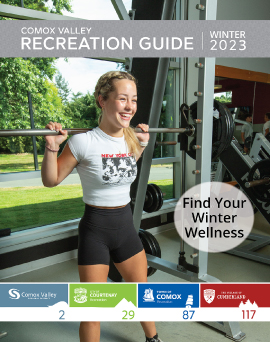 Winter 2019 program information:
Winter 2019 Recreation Guide flipping book
Having trouble accessing the above link? View as a pdf:
4 easy ways to register for Courtenay Recreation programs:
In person at the Lewis or Florence Filberg Centres. First Come, First Served
(no sign in sheets or numbers)

By Phone: 250-338-5371 or 250-338-1000.
By Fax: 250-338-8600 or 250-338-0303. Use the registration form. [PDF - 260 KB]
By Mail: Use the registration form. [PDF - 260 KB]
Please note: No Email registrations accepted